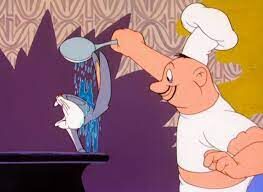 On Thursday, I had the honor of meeting my culinary idol, Lidia Bastianich at her book signing for "Lidia's: From our Table to Yours" hosted by the Columbus Citizen's Foundation.
Her recipes have been a foundation for my version of Italian-American cooking for the Esposito household and her shows on PBS demonstrate the manner in which I enjoy cooking.
After briefly chatting during the signing, she gave an interview to the attendees and talked about her favorite recipes, the first things she remembers cooking (eggs!), escaping communism as a child, her faith, and cooking for two Popes!
When the time came for questions, I asked her about a dish that was I ordered and was served at her restaurant Felidia in the city…It was a veal chop prepared with a sage rub. It's not one you can find in any of her books so I was hoping to get a glimpse into the recipe.
She was quick to point out that veal was not common in her upbringing since it would be uneconomical. She gave some color as a chef as to the proportions of proteins in most restaurant dishes versus how proteins work their way into home-cooked meals (usually about 1/3 protein along with starches, vegetables, etc., making up the remainder).
In lieu of the uneconomical veal, she suggested rabbit which I had't tried until a few weeks back on a trip down to Florida. That dish was a simple roasted rabbit and I found the dish so flavorful that as soon as Lidia mentioned the word, my mind began planning a new meal for the Esposito household.
I looked in the book from the signing, but that rabbit recipe did not include sage which is one of my favorite fall ingredients. So I looked to one of her more all-encompassing books, "Lidia's Mastering the Art of Italian Cuisine" and JACKPOCKET!
There were two options…Coniglio (Rabbit) in Gremolata and Coniglio alla Salvia (Sage).
I chose the first and ordered up the rabbit from Fairchild's Market as I planned out the meal.
https://www.fairchildsmarket.com/
I considered it a success and gave myself a B+ (Timing was off and I needed to finish the dish earlier than I would have liked but that's part of the territory when you are a parent with a teenager). I particularly like the way rabbit seems to make the sauce more viscous without adding any thickeners versus a chicken for example. The sauce was naturally velvetty.
Here's the final presentation…